Cookie Menu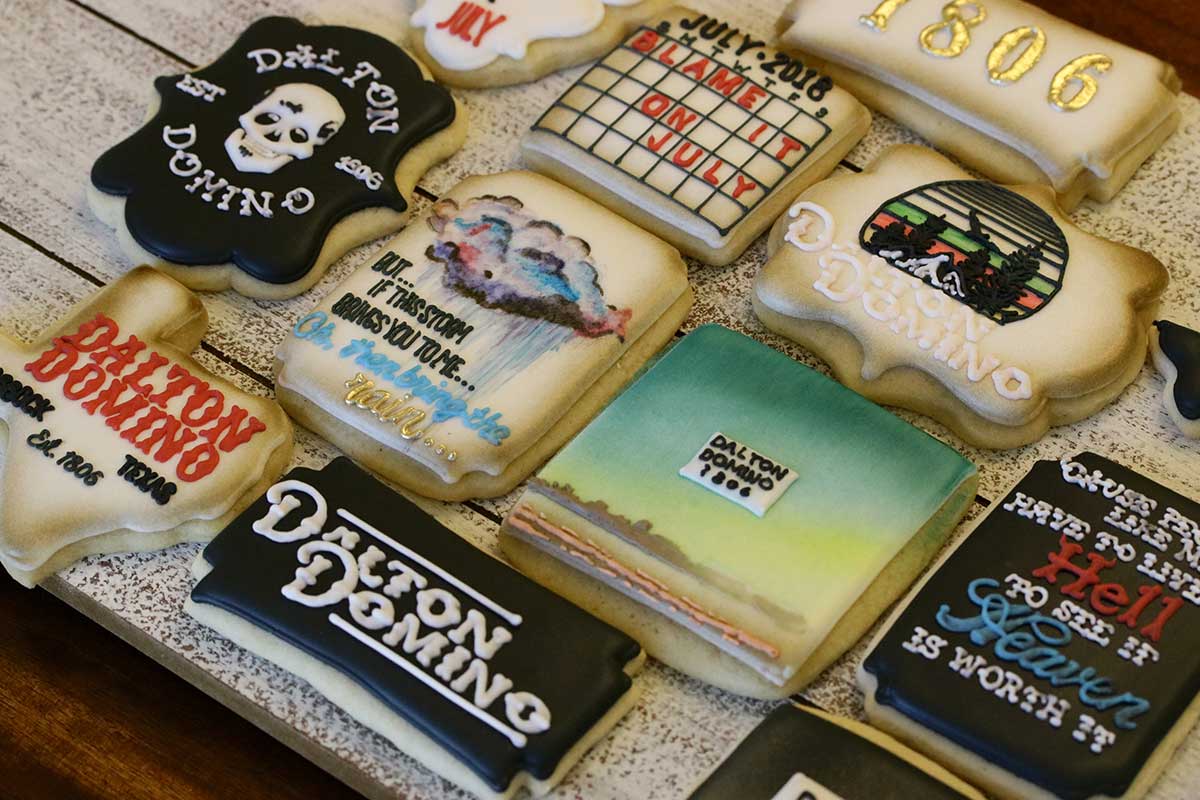 Custom Designed Decorated Sugar Cookies
These cookies will taste as good as they look. Decorated personally by The Bearded Baker's hand to fit any theme.
(2 dozen minimum)
Cookie Menu
Decorated Sugar Cookie
Soft and delicate sugar cookies decorated with a creamy and smooth royal icing. These cookies will change how you feel about all other sugar cookies!
Plain Sugar Cookie
Our signature soft, delicious vanilla sugar cookie recipe left undecorated for a simple, sophisticated taste.
Browned Butter Chocolate Chip Cookie
Chewy cookies with a beautiful nuttiness from the browned butter, packed with bittersweet chocolate chips
Yum Yum Cookies
This oatmeal raisin cookie recipe is a family heirloom and we are more than happy to share these cookies with you! Packed with brown sugar, pecans, and raisins, one 'YUM' just won't cut it!
Gluten-Free Decorated Sugar Cookie*
Gluten-free can be delicious too! This cookie is made with an almond and coconut flour base and decorated with royal icing. Even if you aren't gluten-free, you'll still love these!
Oatmeal Cream Pies
This fan favorite dessert features our silky vanilla or peanut butter Swiss meringue buttercream sandwiched between two of our delicious oatmeal cookies. Trust me, one bite and you'll say "Little Debbie Who?"
Seasonal Fall and Winter Cookie Menu
Pumpkin Spice Decorated Sugar Cookies*
Tis the season to get Basic. These soft and cakey seasonal cookies will warm you from the inside out! With warm cinnamon, nutmeg, ginger, and allspice, you'll be transported to a fall wonderland in your first bite.
Elevated Gingerbread Cookies*
Sometimes a gingerbread cookie just doesn't cut it in the ginger department. That's why we add candied ginger to our cookies to really give your mouth that incredible ginger explosion!
*Indicates these recipes can also be used for Custom Decorated Sugar Cookie Orders – pricing may vary.
Cakelette Menu
Our cakelettes are three-tiered, 4-inch cakes that are perfect for sharing! That is, if you're willing to share after your first bite!
Dark Chocolate Cake with Peanut Butter Swiss Meringue Buttercream
A deep, rich, moist dark chocolate cake, decorated with a smooth, silky, beautiful peanut butter swiss meringue buttercream, and finished with a bittersweet chocolate ganache drip. And you thought you knew what true love was. This cakelette might make you rethink your current standard on relationships.
Not responsible for significant others being ditched for a cake.
Dark Chocolate Cake with Chocolate Swiss Meringue Buttercream
A chocolate lovers dream. Deep, dark, chocolatey cake adorned with a smooth milk chocolate swiss meringue buttercream and finished with a beautiful dark chocolate drip.
Vanilla Cake with Vanilla Swiss Meringue Buttercream
Simple and divine. A beautiful cake spotted with flecks of vanilla bean and finished with a silky vanilla swiss meringue buttercream.